Is it worth the upgrade?
JBL, part of Harmon International Industries, who also produces AKG and Harmon Kardon products and is a subsidiary of Samsung Electronics, have been in the Bluetooth speaker business since its inception.
With the JBL Flip 5, we see some minor upgrades to the already great JBL Flip 4, but is it worth upgrading for?
Let's find out in our in-depth JBL Flip 5 review…
Design
For years, the JBL Flip line has been at the forefront of portable Bluetooth speakers. They are rugged speakers, able to survive a beating, perfect for camping/hiking trips, beach visits, or backyard pool parties.
JBL does away with the splash proofing, offering a fully water-resistant speaker that can be submerged up to 3-feet underwater with an IPX-7 rating. The Flip 5 also comes in a slew of colors, pretty much a color for everyone.
Future proof…
The Bluetooth and on/off button are found down the back of the speaker as well as the USB-C charging port, which future proofs the speaker and is a welcome addition.
The buttons are part of the material that surrounds the speaker, and they stick out a little bit. It is, unfortunately, a little inconvenient, because they match the color of the speaker, making them difficult to find in low light conditions. The same goes for the large volume up/down buttons.
Perfect for camping trips…
The construction is quite lightweight for such a rugged speaker at 540 grams. There is a small loop on the speaker, so you can hang the speaker on a branch or showerhead. The cylindrical shape also makes it easy to fit in your bags water bottle pocket, great for taking it on camping trips or hikes.
There is no 3.5mm jack here, which is a con, more on that later.
Sound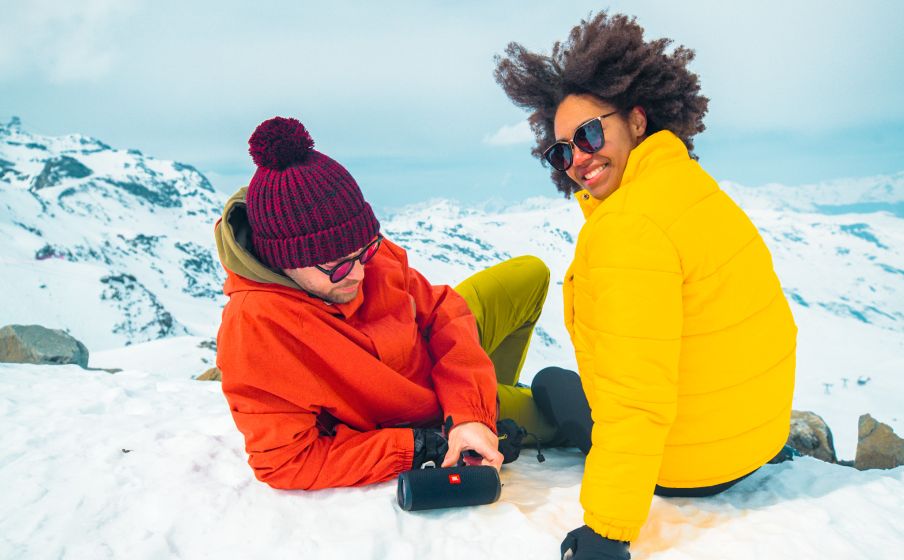 On the whole good, but there is a sharp cut-off for frequencies under 100Hz. This isn't uncommon for Bluetooth speakers in this price range. The mid-frequencies are ever so slightly de-emphasized, and the high frequencies are boosted a little.
All of this leads to a pleasant sound, albeit not very accurate. The boost around the 250Hz helps the higher end of the bass, giving some extra clarity, but the sharp cuts made under 100Hz are noticeable with the bass lacking some low-end. This is mainly due to the size and quality of the drivers, although they have been upgraded from the JBL Flip 4.
Less muddy…
Boosting the higher bass frequencies help make the bass sound tighter and clearer, which was an issue the Flip 4 had. Cutting off all the low-end helps it sound less muddy, at the expense of losing some extra punch.
Vocals tend to sit back in the mix, due to the slight de-emphasizing of the mid-range frequencies, where most vocals are found.
Hi-hats and cymbals sound off and muddled most of the times. This is especially noticeable when there is a lot of bass in a song. This is called auditory masking, when one or more frequencies are much louder than the rest.
Fancy a picnic?
All in all, the speaker sounds fine for a trip to the beach or a Sunday picnic, but don't expect it to offer studio accurate performance.
There is no microphone included, which means no voice assistant support.
Battery and Connectivity
JBL says to expect 12 hours of playback on a full battery. We found the battery to last between nine and ten hours with the volume just above halfway.
Another superb feature is that a quick charge is possible with the USB-C charger. We're glad to see USB-C in a budget speaker/headphone, since most premium devices still opt for Micro-USB.
Not a great choice for movies…
The speaker connects using Bluetooth Version 5, but doesn't support any high-quality audio codecs, which is unfortunate. This means all audio is played using the SBC codec, which is fine for listening to music but doesn't work when watching movies.
Due to the low amount of data that can be transferred, the audio is always lagging behind whatever you are watching. A better audio codec would have fixed this problem, so for now, it only works well for playing music.
Want to be surrounded by sound?
No problem, the Playboost button gives you the option of connecting two JBL Playboost compatible devices together if you'd like some extra sound or are playing music in a large open environment.
However, we definitely wouldn't recommend buying two of these. If you need more power buying a bigger speaker like UE's Hyperboom or JBL's very own Boombox would be a far better option.
JBL Flip 5 Review – Pros and Cons
Pros
IPX-7 rating.
Lightweight and portable design.
UBS-C charging.
Price.
Cons
No hi-res audio codec support.
Sound quality is average at best.
Looking for more superb portable sound options?
If so, check out our reviews of the Best Wireless Outdoor Speakers, the Best Bluetooth Speakers with Radio, the Best Tailgate Speakers, and the Best Solar Powered Bluetooth Speakers currently available.
Or, if you're a fan of JBL, check out our reviews of the JBL Charge 4, the JBL E45BT, the JBL Xtreme, and the JBL Xtreme 2.
JBL Flip 5 Review – Final Thoughts
If you already own a JBL Flip 3 or 4, there is no reason to upgrade, since the differences aren't large enough to validate paying for the new version.
However, if you are purchasing your first Bluetooth speaker and want a durable and affordable option, the JBL Flip 5 is right on top of the list.
If you are outdoors person, the JBL Flip 5 can withstand almost anything thrown at it. It's perfect for people who hike/camp every weekend or fisherman looking for a reliable speaker to take on the boat.
Happy listening.