When did the first 12-string guitars arrive? It is difficult to pin down an exact moment. However, we can identify when they suddenly became popular. We'll deal with that in a minute. But it certainly wasn't with the guitar we will be looking at in this Ibanez AEG1812II AEG 12-String review. It is way before then.
At the end of the 19th century, there were mandolins with 'doubled-up' string patterns. In the early 20th Century, the guitars were around but were regarded as novelty instruments and not taken particularly seriously.
Folk and blues…
Leadbelly used one occasionally, and it had a place in early folk and blues. But it was always used as a backing instrument to fill out because of the difficulty in bending the strings.
Nevertheless, in the 60s explosion, it began to pop up. Carole Kaye played one on the Crystals song 'Then He Kissed Me'. UK session player Vic Flick used one on the Peter and Gordon single 'World Without Love'. And Hank Marvin used a special Burns 12-string made for him on the Cliff Richard soundtrack to the movie 'Wonderful Life'.
So when did they suddenly become really popular?
For it to really take off as an instrument, it needed someone very special to use one while the world watched. Who better than George Harrison. At the start of what became known as Beatlemania, he strode forth with his gloriously designed Rickenbacker 360/12.
Just the look of it. But the sound resonated with a generation. People still want that model today and pay a fortune for an original 1964 model like George's.
It was now in vogue and was used by a lot of players…
Its arrival was confirmed when some of those noisy guitar people started playing them. They had guitars that had both 6 and 12 string necks. Jimmy Page, John McLaughlin, Alex Lifeson. They used Gibson double necks, but they never quite had that Rickenbacker sound that we hear on 'A Hard Day's Night'.
In recent years though, the 12-string sound that Pete Seeger once called 'jangly', found its destiny. Used on one of the great albums of all time and used on one of the great songs of all time. With one of the best guitar solos ever. Pause for breath. The 12-string came 'home' on Hotel California.
Stueart Smith, the Eagles back up guitarist, used it and still does. His was a specially designed guitar with the 6-string neck on top and the 12-string underneath. There are only two in existence. Usually, they are set up the other way round. That will cost a collector quite a bit if it ever comes up for sale.
On to modern times…
Now, of course, most of the guitar manufacturers have their versions. Some good, some not so good. It is a different process to build one of these things. We are going to take a look at a modern version in this Ibanez AEG1812II AEG 12-String Review. But first, who and what are Ibanez all about?
Ibanez Guitars
There have been some well-known guitarists who have used Ibanez guitars. Eddie Van Halen used a Destroyer on their first album. And Joe Satriani uses a signature series Ibanez, along with Steve Vai and George Benson. Not a bad list to start with. Of course, there are many others.
Not bad for a company who were initially shunned because they were Japanese.
Looking at the world market…
Established in 1957, they chose the name Ibanez because it has a western Flavor. They wanted to break into the US and European markets but knew what would happen if they used a Japanese name. It was some time after when some people realized. It was too late by then.
They have had controversies. The lawsuits with Gibson being one for copying some of their models. They didn't need to bother. They produce some great guitars on their own. Borne out by the number of great players that have used them.
Worldwide respect…
Today they are internationally respected for their guitars and basses. But they also make mandolins and ukuleles, banjos and effects units as well as amps, and, of course, some of the most iconic guitar pedals ever, such as the Tube Screamer. The majority of their guitars fall into the cost-effective price range.
Note we said cost-effective, not cheap. Some of them are quite expensive, but compared to their counterparts equivalent, they are cheaper. But they still have real quality and are not cheaply made like some. We are going to take a look at one of their-12-string electric-acoustic products, the Ibanez AEG1812II.
Ibanez AEG1812II AEG 12-String – An Overview
This is a 12-string acoustic-electric guitar that has been designed for the electric guitar player. It is given some features that make it feel a little like an electric guitar. In doing so, whether they realize it or not, Ibanez has made the guitar excellent for a young improver. Or, of course, a young player looking for their first 12-string.
So what have Ibanez given this guitar to tempt the electric player?
It has a slimline body that is similar in width to some Gretsch or Guild guitars. That gives it an electric guitar feel but also makes it easy to hold. But not only that, but it also helps to reduce feedback, a big problem on the stage with some electric-acoustic instruments. It also has a shorter scale length at 25 inches and is very lightweight.
It is an attractive looking instrument and has a nice styling with its single-cutaway and attractive finish. And is built with the typical Ibanez quality, as we shall discuss in more detail later. It is a great guitar for a starter or improver. Nice looks and a good design, so let's have a closer look…
The Body
As we said, this has the typical Ibanez AEG slimline body shape. Guitarists will be comfortable with the body immediately. It has a spruce top, giving the guitar a great projection and a sharp, crisp sound. Acoustically it has that typical spruce sound, which is the reason so many manufacturers use it as a tonewood.
We apologize at this stage in that we tried to find out if the woods used are laminated or layered as they are sometimes called. We could find no mention, which means that the woods used could be solid. At this price point, though, we think it unlikely, so we must assume it is probably laminated.
A warm low end…
The back and sides are made from Sapele mahogany, known for giving warm low frequencies. Together with the crisp sound of spruce, they form a great tonewood partnership.
Unplugged, this guitar is a joy. The deep cutaway gives you full access to all the frets.
Dark Violin…
The style of the guitar is enhanced by the attractive Abalone rosette around the soundhole. It is given a glossy sunburst finish they call appropriately 'Dark Violin'. All around the instrument edges is a great looking body binding in Ivory.
12-string guitars have different design structures to six-string guitars. The body needs to be reinforced to be able to handle the extra higher tensions placed upon it. This guitar has tremendous strength in its design and has an internal X-bracing system. It is made by Ibanez in China.
The Neck
A simple design, it is wider than the usual 6-string, of course, but the action lies nicely. The width at the nut is 1.8 inches. The neck is mahogany with a tasteful gloss finish. It has 21 frets, all of which are accessible and dot inlays. There is a nice ivory binding to the edges of the fingerboard that extends the full-length.
It features a purpleheart wood fingerboard. Purpleheart is similar to Amaranth and is a very hardwood. It has been known to upset certain allergies and cause nausea in people in its raw state, but you won't have any of those issues with this guitar.
The neck has what is very important on a 12-string, an adjustable truss rod. Also important is the design of the neck, which in this case, is given added strength for the increased tension of the strings.
The Hardware
Up at the top, there is the customary outsized head with an attractive gloss wood dark violin sunburst finish. There is the Ibanez name and leaf design. It has 12 sealed die-cast, chrome-plated machine heads. They have been fitted with half-moon turning knobs.
It has a bridge made from Purpleheart with special Ibanez Advantage bridge pins. These pins are much easier to deal with than the pins you find on most acoustic guitars. They have a bulb-shaped design. This is to make them easy to grip when removing them. It also prevents them from being pushed in too far.
The hardware is quite basic but more than just efficient. The machine heads, especially, are of a decent quality. They have to be able to do what is, after all, an important job. Keep it in tune.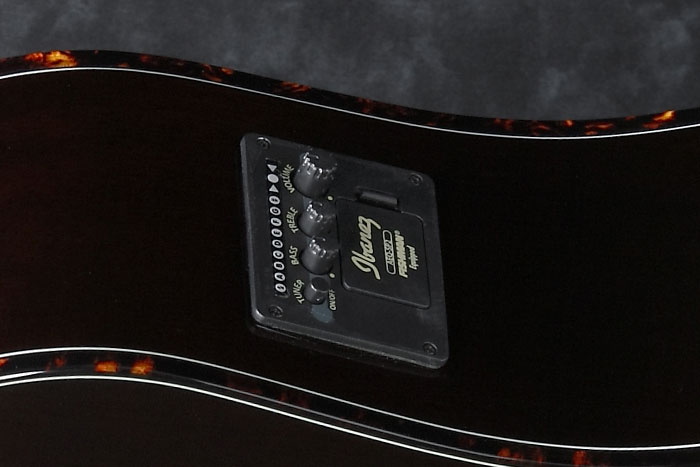 The Electrics
This is always where it gets difficult. You so much want an acoustic guitar to transfer those wonderful roomy sounds through an amp. It rarely happens. The pickups for electro-acoustics have improved over the years dramatically. But they just aren't as good as the standard guitar versions.
This guitar and its electrics is a good example of the difficulty. Ibanez has designed a slimline guitar to make it easy and comfortable to use. In doing so, they have lost some of the body size. This means they will lose some of the guitar's natural acoustic resonance. This has been done to make it feel like an electric guitar whilst maintaining its acoustic roots.
Quality pickup, but not maybe not the sound you were hoping for?
The pick up they use is a good Fishman. No complaints at all with that. It is the Sonicore, a decent pickup, but it won't give you what you may be hoping for. Don't misunderstand us; this is a good pickup and pre-amp. It has independent controls for bass and treble and comes with its onboard tuner — a very necessary addition for a 12-string.
It runs off a 9v battery, and the controls are neatly positioned for use.
Average at best…
The sound is ok, but only if you have reasonable expectations. If you are expecting it to sound like some of the acoustics you hear on CD's then you will be disappointed. It is not possible for an acoustic-electric to compete with a studio-recorded acoustic.
For a guitar, at this price point, the electrics are good and perform well. The sound is basically ok if a little thin. But it amplifies the sound of the guitar. And of course, it is doing that without the booming feedback you often get.
How does it play and sound?
It plays very nicely. A well-designed neck, a good balance, and lightweight slimline construction make it that way. Ibanez guitars are usually nice to play, and this is no exception. The neck is quite wide, but then being a 12-string, it would be. But it is easily playable.
The tones we have already discussed to a certain extent. Unplugged, it is a little thin because of the thin line design, and a little of the potential resonance is lost. But it is still a nice sound courtesy of some good tonewoods and the internal bracing. The sound is not disappointing.
Add some pedals and your away…
Plugged in, we have already explored. If you have realistic expectations of how it will sound, it is fine. Actually, a little better than fine. It is quite nice. It certainly allows the player to plug in, and with today's pedal technology, it is possible to construct a very good sound.
Ibanez AEG1812II AEG 12-String Review Pros and Cons
Pros
Classic AEG shape.
Built-in pre-amp and tuner.
Nice low action.
Cons
Get ready to do a lot of tuning.
No pickguard
Pricier than a lot of the competition.
Looking for more superb acoustic options?
If so, check out our reviews of the Best 12 String Guitars, the Best Acoustic Guitars under 300 Dollars, or the Best Acoustic Guitars under 500 Dollars you can buy.
But, if you're on a tighter budget, you may want to take a look at our comprehensive reviews of the Best Cheap Acoustic Guitars under 200 Dollars on the market.
Our reviews of the Best Acoustic Guitars for Kids, the Best Acoustic Guitars for Beginners, the Best Acoustic Travel Guitars, and the Best Guitars for Small Hands currently available in 2023 may also be of interest.
You may also be interested in the Taylor GS Mini, the excellent Epiphone Hummingbird Pro, the Martin LX1 Little Martin, the Epiphone EJ 200SCE, the Taylor BBT Big Baby, and the Epiphone AJ 220S.
Ibanez AEG1812II AEG 12-String Review Conclusion
What we think?
Certainly, for a young improver or even a starter, this is a great guitar. It has that classic jangle as Pete Seeger called it, and the woods used give it a nice projection. However, it has a limited depth and bottom end due to its slimline design, but it is still a nice sound.
It must be said that it looks outstanding with its 'dark violin' sunburst. It is very impressive.
We like this guitar. It is not the top of the range by any means, but for the price point, it is excellent value and certainly a guitar we would recommend.
Happy Hotel Californication.