If we are going to be talking synthesizers, it opens up a whole world of styles, designs, and purpose. The Arturia MicroFreak is another in a long line of instruments that create 'other-worldly' sounds.
The synth was first demonstrated in 1956, but from a manufacturing point of view, it couldn't be produced. Perhaps the first consumer synth was the Mellotron.
This came to the world's attention in England in 1963. It was impressive for its time and opened a door just a little to what might be possible. Production ceased in 1986 but was revived in the 90s. It made an impact at the time and still does.
Who used it?
Of course, we all remember The Beatles and 'Strawberry Fields Forever' and the Moody Blues 'Days of Future Passed.' How about 'The Court of the Crimson King' by King Crimson. Likewise, you can add Yes and Genesis to the list.
And just to set the record straight and remove a common misconception. The Who did not use a synth on the intro to Baba O'Riley as some think. That was a Lowrey organ with a heavy repeat function. Although, it did bring forth another burst of synthesizer activity.
In writing about synths, you can't overlook Pink Floyd, of course, and ELO, Yes, and even ELP. The synth made a big impact and an enormous contribution. It made things happen that otherwise might not.
So let's see what is in store in our in-depth Arturia MicroFreak Review…
Arturia
Founded in 1999 in the beautiful French city of Grenoble, Arturia joined the music party a bit late. In terms of the size of the company, they are still relatively small, employing less than 100 staff. But they make a big impact.
They now produce a range of software-based instruments. Synthesizers, of course, but also drum machines, MIDI controllers, and sequencers.
The Arturia MicroFreak is an algorithmic synthesizer that is a change of style for Arturia. They are most respected for their analog synths. And also for emulations, or imitations, of some great instrument sounds.
So what is this strangely named synth?
Overview
This is a real hybrid. A French digital and analog combination. Analog filters combined with digital oscillators, and a whole lot more in the mix. It is not unreasonable to say that this synth brings something new to the table.
This is one of those products that start to push boundaries and open up new possibilities, just like the Mellotron and the DX7 before it did. A creative idea for what you might call a keyboard, but is actually a touch plate, is a start.
We will look at that rather intriguing design feature a little later.
Very versatile…
The versatility of any synth in some people's eyes will define it. There have been great synths in the past that were known for a single sound. But they had other great sounds built-in as well. The MicroFreak is versatile, to say the least, and carries a lot to be interested in.
Whatever sound you can dream up, it will create. Whether you want calm and sweet or total chaos, or perhaps deep and moody or bright and happy. Or maybe hypnotic and dreamy. It is all inside.
The number of possibilities within this relatively small synth is staggering. But most importantly, it allows enthusiastic newcomers and experienced pros to both sample the new frontiers.
So, let's take a closer look…
The Build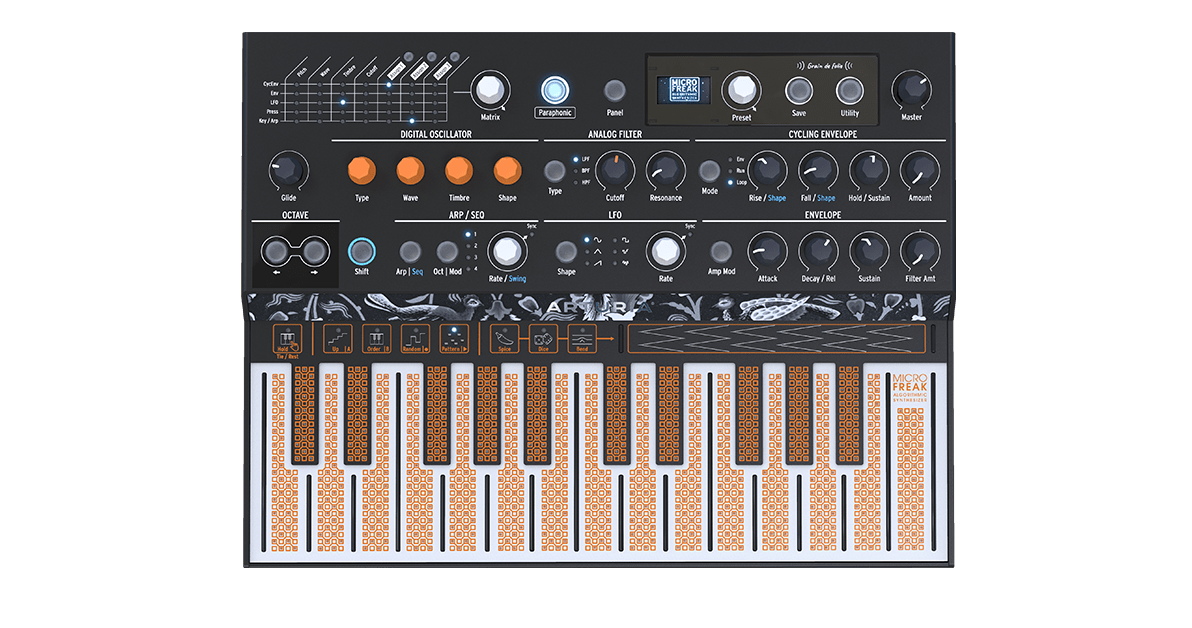 Are you going to build a synth to carry around with you? Or is it going to be a permanent feature in a studio? A dilemma facing many manufacturers. Why not have it do both?
You will need to get beyond the perception of the quality of the build of the Arturia MicroFreak. It measures 12.24 by 9.17 by 0.22 inches and weighs just 4 pounds. It is mostly plastic, and it feels a little weak in the hands.
Looks can be deceiving…
In some ways, you can understand that a few corners needed to be cut to give it an attractive price point. But it certainly isn't vulnerable and isn't going to fall apart. And yes, it is small, but that in a lot of situations is going to be an advantage.
But as you hold it, you won't be thinking too much about the weight. Your attention is likely to be taken up by what appears to be a keyboard. Though it could be an optical illusion. We are going to look at that very soon.
It has a clear OLED screen as opposed to an LCD screen. LCD screens are backlit, and this provides the illumination of the pixels. In the OLED system, it is the pixels themselves that generate the light. This gives a much clearer display.
Portable and potent…
We said earlier, why not let it do both. It appears to us that this is what this remarkable little synth has been designed for. Yes, it is cheap enough to be a great addition to any small or home studio.
But the sonic capabilities of it means that it should be a part of the options at any major studio. Have you ever been to a studio and heard the engineer say, "oh, that sound was the 90s"? Or "we don't do that anymore" when all the time, that is how you hear your music?
Not with this. The price point makes it a no-brainer.
And what about live gigs, we hear you ask. Not a problem; the sounds are all there. Just wrap it up in cotton wool while it's moving. It will be fine, and it will thank you later with a great performance.
Something rather new?
Still with us? Let's take a look at the 'keyboard.'
To call it a keyboard is rather a misnomer. A touch-plate that has keys etched on it might be a better description. But a touch-plate is not all that it is.
Sensitive and responsive…
There are twenty-five touch-sensitive keys that have Polyphonic aftertouch. The touch-plate is pressure sensitive, which for some players, has meant a more expressive keyboard. Those features alone at this price point should raise eyebrows.
The touch-plate offers a performance that is different from a conventional keyboard with keys. These keys are actually printed circuit boards that are flat strips with copper dots.
They will respond to your playing style, giving you pitch and pressure data. The data can then be applied to a parameter courtesy of the Matrix. The level of response and the amount of polyphonic aftertouch can be adjusted in the Utility menu.
It gets better…
Note bends and Arpeggios can be included, and there are octave range settings. The possibilities are endless and would take up far too much space here.
The Performance
The performance is outstanding but also extremely complex and technical. Beginners can have a lot of fun with the creation of sounds. But to get inside, this synth takes a bit of work. Let's call it a challenge.
The MicroFreak is a paraphonic synthesizer with four voices. Engage the Paraphonics, and you can use four voices at once. However, they all have the same filter.
Multiple modes…
A single Digital Oscillator generates the sound. There are twelve modes. Selecting one will bring up further parameters on the OLED screen.
Each mode has its own set of parameters. The Wave, Shape, and the Timbre of each can be manipulated and information displayed on the screen.
Each of the twelve modes covers a wide range of digital and emulations of analog sounds. The options for creating tones are, therefore, massive.
Loaded with sound options…
The Virtual Analog design and the oscillations of the Basic wave provide waveforms for memorable VA design of sound. The Superwave option creates more recent bass sounds.
The variety of oscillators create a wealth of sounds. The harmonic gives you Chorus and bell-like sounds. The Karplus mode replicates bow and string sounds. A Modal resonator gives you the sound of drums and other live instruments.
The digital oscillator in MicroFreak is a great tool to use to build totally different sounds. The analog filter plays its part by giving you a warm yet punchy sound. And so you can really develop it, you can save 256 presets to go with the presets already inside.
Digital with analog flair…
A common to synths feature is a two-sine operator that controls frequency modulation, ratio, and feedback. Waveshaper implements a combination of wave folding and waveshaping. Thus giving the options for pleasant harmonics as well as biting lower frequencies.
It must be said, though, that it is a synth that is digital. But it feeds into a completely analog filter. The filter is also digitally controlled. We'll cover that later on.
One final comment about the performance of this synth is that it works fast. The inclusion of an efficient real-time sequencer allows instant results. Perfect for the live performance.
The Sound
As we have already briefly said, the ability to craft new sounds is seemingly endless. But it isn't just the sounds. We could spend a long time talking about them. And we hope we have painted a very simple picture of what this synth is capable of.
But it is more than just the sounds. The great thing about some of those early synthesizers was they had great sounds, but they had 'something else.' The Arturia MicroFreak also has that something else.
That something else is the ability to create textures. Unusual textures within sequences that are constantly evolving. You don't have to be an electronic producer to appreciate that. With Polyphony and four-voice Paraphonic sound, this is a remarkable piece of kit.
The Controls and Connections
There are far too many individual controls to itemize them all and to describe their function in this simple Arturia MicroFreak Review. Suffice it to say you won't find much missing. Just a few mentions, though.
The OLED display plays a critical role. This is because it gives you a visual display of changes. The waveshape, filter sweeps, and curves, and a myriad of other things can all be controlled.
Keep tabs in real-time…
The display is important not only because it creates that particular visual performance. But because it is also nice to watch what's happening. Newcomers will learn a lot just by watching and seeing what the changes do and what they mean to the sound.
To the rear are the connections. There are enough without it becoming cluttered. Audio outputs and headphone and USB sockets. A quarter-inch master out and MIDI in and out are just a few. There is also an on/off switch.
Incredibly and intuitively creative…
Using this compact little synth actually feels like you are using more than one. Creativity is its keyword and is its raison d'etre.
If you are ever stuck on an idea and feel like something should be there that isn't, the solution is easy. Just switch over to another oscillator, and you get a totally different sound, timbre, and texture. Maybe that will be the answer.
Arturia MicroFreak Review Pros and Cons
There really is too much to include here, but here are just a few positives.
Pros
Endless sound options.
Layering. Textures and timbres are all adjustable.
Some all-encompassing oscillator modes.
The combination of digital and analog in perfect harmony.
It's fun.
Cons
It will take you some time to get used to the Sequencer.
The raw settings could have been a bit dirtier.
Looking for something a little bigger?
No problem, we have a wide selection of keyboards and digital pianos to choose from. So, check out our in-depth reviews of the Best Cheap Keyboard Piano, the Best Digital Piano Reviews, the Best Yamaha Digital Piano Reviews, and the Best Kawai Digital Piano currently on the market.
Or how about the Best Portable Keyboard Pianos, the Best Digital Grand Piano, and the Best Digital Pianos Under $500 you can buy in 2023.
Arturia MicroFreak Review Final Thoughts
How could you not want one of these with so much packed into such a small space? The small space is only matched by the small price ticket. We are still in awe of the various oscillator modes and the versatility in the sound they offer. But not only the sounds. This is an atmospheric synth; make no mistake. This is going to set the mood as very few other things will.
But let us go back to the point we made earlier about where digital meets analog. Sounds can never be completely analog, unless they are. And when you get a hybrid like this synth, the digital aspects often overshadow the analog aspect.
So it is with this synth…
Being effectively a digital machine, a lot of the sounds are just a bit, how can we say it, digital. It seems pointless to mention that, as it is a digital synth. But that digital sound is what most will be looking for. And when added to a bit of analog warmth, you have a winner.
It lives up to Arturia's reputation. The Arturia MicroFreak is a synth like no other at this price.
If you are looking to get a synth, and are getting a list together, put this as number one on the list. Sound is its raison d-etre.
Happy sound manipulation…