At long last, a set of ANC headphones with top-notch sound and battery life for less than $100!
Sony (along with Bose) have long reigned supreme in the world of Active Noise Canceling headphones. But now, with the introduction of the AKG N700NC, there is a new player on the block.
Competition in any market is a good thing for consumers, and it's no different here. With the AKG N700NC, the company have shaken up the market, making ANC fantastic technology more affordable than ever.
But there's no need to worry – even though there is a heavily reduced price tag compared to what we are used to seeing for Bluetooth ANC headphones, the quality is still second to none.
In all honesty….
When they slid onto our desk a few weeks ago, we were pretty skeptical, as this type of headphones usually costs way more. And once we did a bit of research, we realized that when they were released last year, they did retail for quite a bit more!
This feature-packed set of wire-free, circumaural headphones have taken the sub $100 market to levels previously unseen. And have received close to perfect scores from reviewers and users alike since they hit the market.
So, come with us through our AKG N700NC Review to see if they live up to the hype.
Design and Construction
AKG have worked extremely hard to make this set of headphones not only super comfortable and durable but also lightweight. Built from a mix of metal, plastic, and real leather – this set of headphones have a superior look and feel. And the real leather used as the outer on all the padding only adds to this feeling of superiority and quality.
The leather covers a cushioning layer of dual foam on the ear cups and the headband. The pressure exerted from this setup is satisfying and feels more like a warm hug than the vice gip offered by some of the competing headsets.
Long-lasting comfort is what AKG were obviously aiming for here, and that's exactly what they have achieved. And that's very good news because with a 23-hour battery life you can end up wearing these bad boys all day!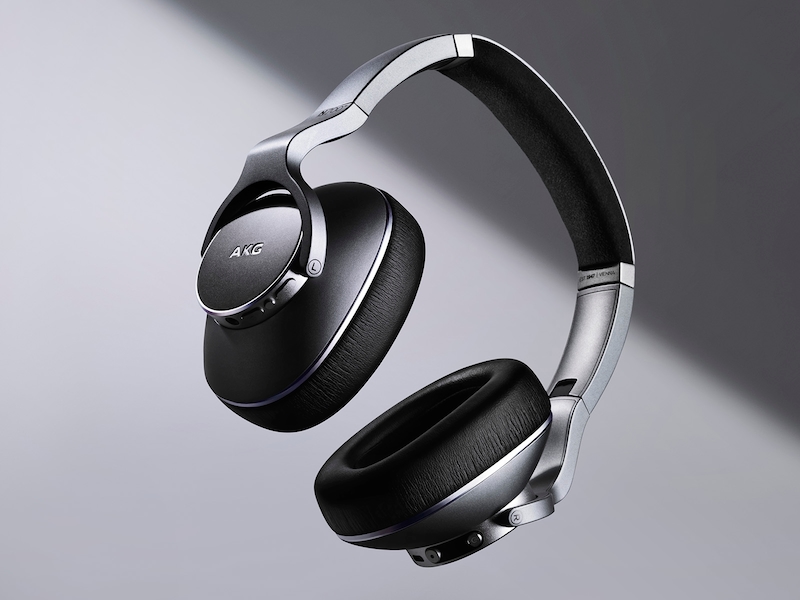 But more on the battery setup later…
Matte-black, velvet-finish, industrial-grade plastic is the order of business for the AKG N700NC. The modern, minimalist, smooth angled aesthetic that the company have gone with is pretty standard these days. And we love the clean look and the soft angles.
While you wouldn't necessarily call this seat of headphones pocket-sized, they do fold down to a reasonable size and easily slip into the provided carry case. The hinge system is fully metal and never feels flimsy.
What's in the box?
Along with the case and headphones, out of the box comes a standard 3.5mm AUX cord for when the battery finally does die, a double adapter, and (thankfully) a USB-C charging cable.
Sound and Performance
There's really not much to say here; besides that, the AKG N700NC sound brilliant. There has been a small bump in the bass response when compared to their last over-ear set, and this has really upped the overall sound. No longer are bass-drum kicks in the way of the lower midrange, leaving more than enough room for the rhythm section of any track.
For testing, we first threw on FKJ's new mixtape. We love using this artist for testing as he often uses live loops, which helps distinguish between different sections of the soundstage as he adds or removes layers. FKG also plays a myriad of instruments, which also helps focus parts of the overall sound.
The AKG N700NC do a next-level job of handling everything that is thrown their way with this mixtape, and we are sure even the artist himself would be happy with the results. Audio masking is one of the most common issues in headphones in this price range, but we couldn't detect even a slight hint of it with these.
Powerful ANC…
But where they really stand out is when the ANC is engaged. Everyone out there, including us, is guilty of listening to music way too loud, especially in high noise environments. This is the exact situation where you should really turn down your music if you want to avoid hearing damage. But, this is where ANC becomes not only handy, but also good for long term ear health.
By using a pair of small microphones (hidden in the earcups) to process all the ambient noise, the AKG N700NC are able to produce a perfect mirror image of the ambient sound waves which are used to cancel out the environmental noise. And they are able to do this without masking any of the music.
We've said it before, and we will say it again – we are living in the future! As previously mentioned, the Sony WH-1000XM3 and Bose QuietComfort 35 II headsets have more powerful ANC, but AKG are not far behind with this offering.
Battery
Looking for headphones that will last all day, and then some? Well, the AKG N700NC has you covered! In the user manual, they claim that the battery will last 20 hours from a single charge.
Is that claim true?
Yes, and no. It is pretty dependent on volume levels and whether the ANC is engaged. We were actually able to squeeze out 22.5 hours from our first run at 60% of the volume without ANC.
But at 100% volume (which is too loud for us) and with ANC engaged, we were only able to push out 17.5 hours, which is still more than enough for most people's needs. When plugged in with the included 3.5mm AUX cord, the ANC lasted almost 35 hours! Pretty amazing.
The battery recharges quite quickly for a micro-USB setup. We scored an average charge time of two hours and 13 minutes.
Connectivity
This is where we reckon Samsung have tried to save some money. The 4.1 Bluetooth system is slightly out-dated and does not support a few of the main codecs – namely aptX. But, not to worry, as we were pleasantly surprised with just how strong the connection was indoors and outside, as long as we stayed within 20 ft or so of the streaming device.
The companion app is really good. It allows you to push firmware updates, play with all the EQ settings, check battery life, and reassign the Smart Ambient button if you feel the need.
AKG N700NC Review Pros and Cons
Pros
Near class-leading ANC for a fraction of the price.
Beautifully balanced sound.
Firmware updates via AKG app.
Sturdy and solid.
High comfort levels.
Looking for more superb AKG Products?
If so, check out our reviews of the AKG K371, the AKG N60NC, and the AKG 40 Studio.
Or if you need a pair of headphones for a specific purpose, then take a look at our reviews of the Best Running Headphones, the Best Waterproof Bluetooth Headphones, the Most Comfortable Headphones, the Best Wireless Bluetooth Headphones, the Best Headphones under 100 dollars, the Best Studio Headphones for Home Recording, and the Best Headphones and Earbuds for Sleeping currently available.
AKG N700NC Review – Final word
For the price tag, it is extremely safe to say that there is simply no better deal available right now for ANC over-ear headphones. With the exception of the Bluetooth setup, every feature is of flagship quality and the sound is as good as much more expensive sets.
Sure, you could pay more for the Sony or Bose ANC sets, and you would get an amazing set of headphones. But, why spend that extra hard-earned cash of yours? We reckon you should, at the very least, check out the AKG N700NC over-ear foldable wireless Bluetooth headphones and see if you like them as much as we do!
Happy listening.